There's always breaking news in the world of sports, from scores to controversial trades. Now, during the coronavirus pandemic, fans are waiting for any and all updates on their favorite teams. Using browser-based push notifications, publishers can turn interested fans into repeat visitors and loyal subscribers with targeted sports content and breaking news updates even when they are off your site.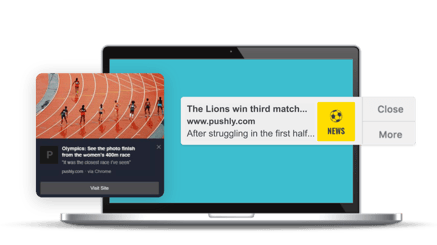 Why push is a first-round pick to grow audiences
The breadth of sports content and consumer team preferences means publishers need to appeal to diverse audiences to drive more clicks. With the COVID-19 pandemic affecting live sports worldwide, publishers should prioritize maintaining and growing repeat sessions in preparation for when sports pros are given the green light to return. That said, most readers don't want to be inundated with content that doesn't interest them based on their often very specific passions.
Sports publishers can use the Pushly platform to track user page views, read times, and clicks to segment audiences, ensuring that readers receive the personalized content they want, when they want it. Cutting-edge push platforms offer machine learning capabilities that allow publishers to immediately begin sending personalized content based on a subscriber's onsite behavior and interactions with notifications, seeing on average seven percent and higher CTRs.
Here are a few smart ways you can target sports fans and bring them back:
1. Geo Segmentation uses location to deploy content.
Example: Baseball fans in Boston are more likely to root for the Red Sox than the Royals, and while plenty of fans support teams in other cities, geography is generally a good indicator of interest. Geo segmentation allows publishers to target audiences by region (Floridians are likely less interested in curling than Minnesotans), and send pushes based on time zone.
2. Tracking page visits easily buckets audiences by content type.
Example: If a reader has clicked into 15 articles about soccer and two about basketball in the past month, they're more likely to respond to notifications about NFL updates than NBA draft picks. When it comes to sports fans who know exactly what they want to see, this approach results in significant engagement rates and an average of 1.9 page views on return.
3. A/B testing can determine which content performs best within groups.
Example: A small segment of readers interested in golf could be sent either an article about the 20 toughest courses in America, or a piece about up-and-coming golf pros. After a certain amount of time, whichever article had a higher CTR in the sample group would be sent to the remainder of the segment. One of Pushly's top publishers used this type of A/B test to boost clicks-per-send performance by 16%.
4. Timely notifications result in repeat clicks.
Example: Monday Night Football fans and fantasy league enthusiasts will probably hash out game details the next day at work. A well-timed push that targets NFL fans could result in consistent Tuesday morning clicks throughout the season.
Break your own records with push notifications
The Pushly platform is quick and easy to implement -- recently, Dallas Morning News developers were able to get started sending push notifications in less than an hour, immediately resulting in over 6,000 notification subscribers each day.
On average, our push partners see four daily user notification interactions per user. That's because push subscribers have already opted-in -- they've volunteered to receive desktop or mobile notifications, even when they aren't on your site. This lets you get stories and stats in front of readers in real-time. Using segmentation to increase interest-based clicks seals the deal.
Connect with us here to learn more about how Pushly can help drive repeat engagement, loyal readers, and revenue for your sports publication.