Any major event gives publishers a unique jumping off point for new content. And the Academy Awards provide opportunities for every genre -- from entertainment sites to food bloggers and lifestyle journalists.
With so many headlines to click, how do you ensure audiences will choose you as their source for Oscars coverage? Shine a spotlight on your content with push notifications that highlight what your readers want. Make the most of the event's lead up period, day-of coverage, and wind down -- all opportunities to rack up page views. Here's a guide to how to make the most of Oscars buzz, from the red carpet to next week's recaps.
Roll out the red carpet… keep your subscribers engaged
Your readers opted in to push notifications -- make them glad they did!
Pull readers back to your site regularly with targeted content. If they trust you for great articles throughout the year, they'll be more likely to pick your site for high-profile event coverage. Plus, the more your audience reads, the more we'll know about their interests. Pushly's Smart Segmentation tool constantly reassess page views to keep reader preferences up-to-date.
If the shoe fits… readers engage with pushes that fit their interests
In order for a push notification to be successful and encourage return users, a targeted message needs to reach the right person at the optimal time. Pushly uses Smart Segmentation and pattern recognition to align these factors and provide each subscriber with ultra-personalized content.
Push works because it's personal. To send the right message to the right reader at the right time:
Track page visits. If a reader clicks ten articles about celebrity divorce and only one about Tom Hanks's political preferences, we'll know to send the latest gossip updates.
Monitor content preferences. From there, Pushly does a deep dive: Is the reader more interested in salacious rumors, or big news like weddings?
Geo-segment. Pushly internalizes locations and time zones -- if a reader is in Boston, they're likely to engage in different topics and times than someone in Los Angeles.
Reward loyal readers. Loyal readers are gold for publishers. Even though only 3.8% of audiences are loyal readers, they drive over 16% of a site's traffic on average. Up their push notifications and personalization to let them know how much they mean!
Supporting actors matter… all publishers benefit from big events
The Academy Awards is huge for entertainment sites, but any publisher can tailor a major event to their subscribers. For example:
Food-related push notifications could be sent out in the days leading up to the event based on segments: "20 elegant appetizers everyone will love" to a savory audience, or "Decadent desserts for this year's Oscars party" to their desserts audience. People who clicked into those pushes would then receive follow-ups the day before or day of, like "Five last-minute apps you can make this afternoon."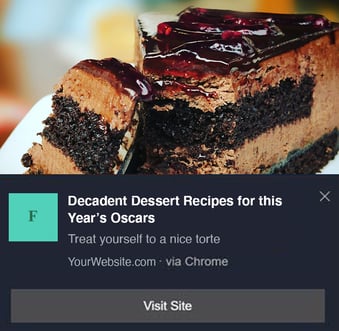 Fashion-related push notifications are a shoe-in for great content. Who's the best dressed? Whose fashion was a flop?


Sports-related push notifications could link to a list of athletes-turned-actors for anyone in their lifestyle segment, or highlight sports films.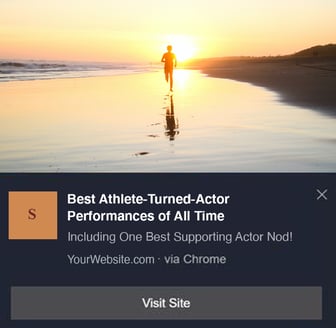 Lifestyle-related push notifications can highlight at-home trends: "How to decorate for your bubble's Oscars party" or "20 floral arrangements that scream luxury."

Don't change the channel… return visitors engage more
Follow up on page views with next day content. "50 best red carpet looks" could gain clicks from segmented readers interested in fashion, while "Charities the hollywood A-list supports" could appeal to subscribers who lean toward political content. For party enthusiasts? "Fool-proof hangover cures" could get plenty of clicks the morning after.
Benefits of the Pushly platform
Pushly does the work in advance, so you can focus on writing event coverage day-of. From scheduling campaigns in advance to developing a reader base, we keep your content in the limelight.
Pushly can pre-schedule campaigns as well as rapidly deploy breaking news to large audiences, so you can focus on content.
We make readers look forward to your pushes, rather than feeling inundated by too many notifications
Smart segmentation feels like personally curated content for each subscriber, so they get what they want, when they want it
Personalized notifications have lower attrition rates than random sends, so you know your audience is there and waiting.
Connect with us to learn more about how Pushly can help you prepare for 2021's big events!