Your web team was buzzing about the incredible response to a compelling piece of content that audiences were actually excited about. They commented, downloaded or bought and (gasp) they even subscribed to see more. Your team gets the next stellar piece up on the site, delivers it through the subscriber channel and...crickets.
So, you heavy up on expensive audience acquisition programs hoping that maybe your content would be seen in extremely busy channels to bring more visitors to your site. Meanwhile, the pool of visitors who originally engaged are left idle.
Now, let's talk about a retention strategy that gets web traffic back using 1:1 direct engagement with targeted web push notifications.
The "boomerang effect" of web push with segmentation
For years, the arsenal of engagement tools for audience teams never really met the needs of consistent audience retention. By putting the focus back on actual web traffic, publishers can retain visitors with segmented, relevant content delivered in a non-intrusive way using web push as a channel. Think of push as a "boomerang" approach proven to increase repeat traffic by an average 11 percent month over month.
Pushly's smart segmentation tools allow publishers to analyze user behavior on site to intelligently package, individualize, and send relevant content specific audience segments. On the Pushly platform, publishers can segment subscribers in multiple ways including which site pages the visitor consumed, how long it has been since their last visit, their location, and even first-party data from other channels, such as email newsletter preferences. Our analytics give publishers valuable feedback based on audience interactions with push notifications, which can be leveraged to determine what content to deploy next.
The sample below shows a segment built by a media publisher to target audiences interested in technology content with push.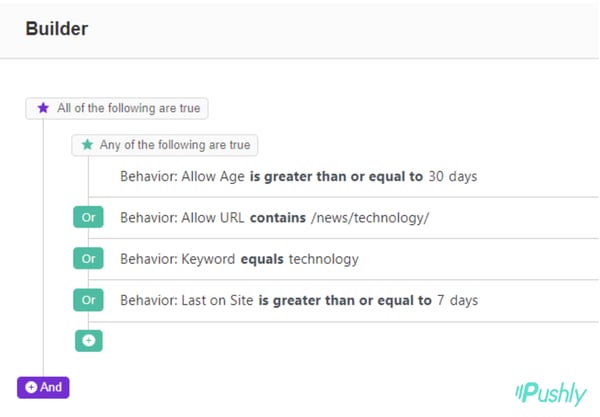 With smart segmentation, the Dallas Morning News saw CTR's greater than 20 percent by targeting subscribers based on where they signed up for notifications, the pages they visited, and what content they engaged with on site.
At Pushly, we focus on quality over quantity with push notifications to better help publishers establish credibility and create authentic connections that bring traffic back time and again. That's why Pushly customers in multiple industries see above average click rates using our segmentation capabilities to get the right content straight to interested audiences.
Compliant and non-obtrusive personalization
Pushly is GDPR and CCPA compliant. Although we don't collect any personal or sensitive information from visitors we do, however, offer personalization options in non-intrusive ways. For example, once we receive visitor data from a pet food partner we can optimize targeted push sends with a special pet food or supply offer based on visitor on-site behavior. And, for one of our food site partners, our intuitive technology knows what kind of recipe visitors would be interested in seeing based on their shared tag history.
Web push is a low-barrier to entry channel with targeting capabilities using real-time user data that enables the right content to be sent to the right audiences to ultimately drive loyalty. See how it works and let's talk.