Pushly Insider offers useful tips and strategies for our customers to be even more awesome in their use of push notifications.
There are many ways to adjust your Notification workflows and default settings in the Pushly platform. If you are an Admin user, you may not know that you have the ability to make adjustments to your workflow defaults, including changing your default logo, Notification buttons, and more!
To access these settings, head to Settings > Domain on the side menu. You'll then land on a page where you have multiple options to adjust preferences. Now, scroll to the settings box that you want to adjust and click "Edit" on the right side.
Let's walk through what you'll see in each box:
Details
In this section, you will see Platform Configuration options. When you click "Edit," you can adjust your SDK Whitelists. Basically, this gives you the ability to add in your development domains if you'd like to test push notifications on them. Don't worry if this field is blank, Pushly defaults to allow your production domains.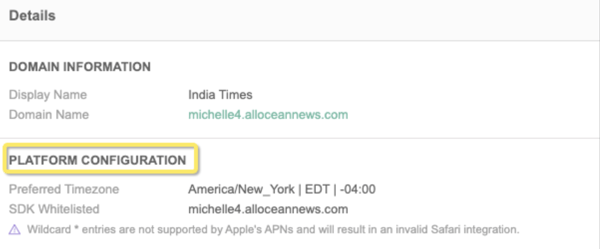 Send Integrations
You will also find on the Domain page a "Send Integrations" section that allows you to configure Safari support if you want to do so. Most of our partners choose not to implement Safari support due to its limited functionality, but if you want to go forward, be sure to check out our Implementation Documentation.

Notification Settings
This is the section where you will make the majority of your push notification updates. This section allows you to adjust objects associated with your Notification creation and deployment. Let's look at each option individually.
Landing URLS - This option is built to help you control which URLs your team can input into the Landing URL box when creating Notifications. The default allows for any URL to be entered, but if your team is struggling with URL accuracy, it is worth inputting your primary and secondary URLs to help quality control.

Button Defaults - These are the default options that will appear when you choose to use Custom Buttons on the Notification Creation page. Check out our blog for more insight on how to leverage this option. In this example, we give our subscribers the option to click "Read More" and see the story, or they can click Button 2 and go to the email newsletter sign-up page.

Media - This is where you can update your default Logo and Badge for use in Notifications and prompts. Check out the Definitions in our documentation to find the specs or check the tool-tips!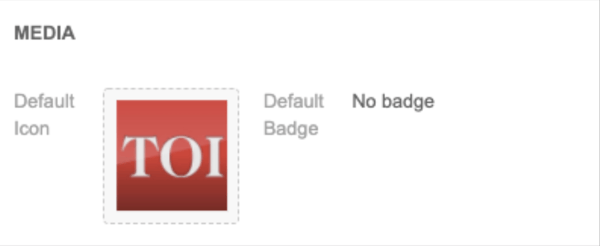 UTM Parameters - This is where you can decide which parameters are automatically appended to each of your Notification click links. Our system defaults to include "utm_source=Pushly," but you can update that or the other options as you see fit. This will allow you to monitor your traffic via Google Analytics and other site tools.

Additionally, Pushly offers a number of dynamic UTM parameter options, such as appending the individual notification ID. Reach out to an Account Manager for more information on your options.
Prompt Settings
These options are related to your opt-in flow and tend to only be used when specific use cases are present, such as the frequency of opt-in prompts based on user interactions or where a user came from once they hit the site. Here's what they mean:
Frequency Caps will determine how often a user that does not interact with a prompt (Dismiss or Allow) will be asked again to subscribe. Most partners leave this option off unless they have a specific use case to consider.
Referrer Conditions will determine if a user is able to see a prompt based on where they arrive from when they land on your site. This is also not very common with our partners, but reach out to your Account Manager if you have questions about using this feature.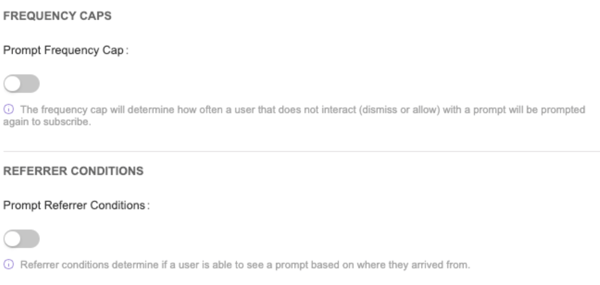 Now don't you feel like a push notification pro! If you have additional questions, always feel free to reach out to your Account Manager or AccountHelp@pushly.com for assistance. We're here to make your experience on the Pushly platform as effective and efficient as possible.