So a visitor has opted in to receive web push notifications and you are geared up to deliver the most meaningful, non-intrusive notifications to keep them coming back to your site. You lined up the perfect direct-to-reader content for your notification campaign, yet you can't help but wonder -- is there a way to get even more interactions and better understand what content subscribers like to engage with? The answer lies in Action Buttons.
What exactly are Action Buttons? Action Buttons allow publishers to customize notifications by providing the user with an additional click or link button to increase engagement based on the notification's content.
How to use custom Action Buttons
Think of using Action Buttons as a conversation you are having across the table from your subscribers -- actively listening to what they have to say about the content you're sending them. This is an invaluable direct insight that publishers can get into their users' content engagement preferences by using multiple buttons.
By default, every notification is configured to bring the subscriber back to a publisher's website. In addition to the traditional "Read More" site content URL, Pushly offers publishers the option to add up to two Action Buttons when creating a notification.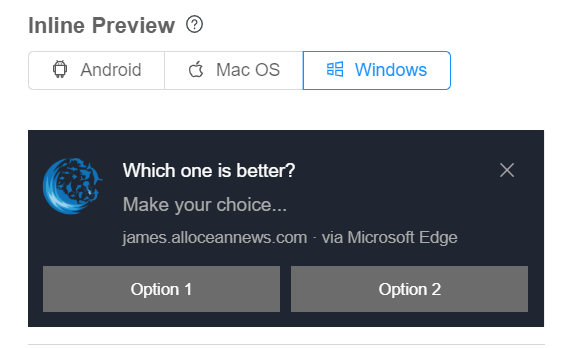 On the backend, each custom button requires publishers to define an 'Action' or what happens when the subscriber clicks on the button. For example 'Open URL' will send the subscriber to a specific page. Next, type in the relevant text or 'Label' that the subscriber will respond to as an appropriate action to the delivered content - e.g. "Take Our Survey." And finally, type in the 'URL' that leads the subscriber to a specific page. This could be the default landing page of your website or a page with content specific to the Action Button.
Creative ways publishers use this feature
Our publishers have come up with some interesting ways to increase engagement with their audiences using context-dependent Action Buttons. For example, our top-rated food publisher used action buttons to share two different recipe options based on the subscribers' onsite activity. Our national news publishers use Action Buttons to add reader polls to content notifications or links to other sections the reader may be interested in viewing to increase time on site.
Action Buttons boost the relevance of push notification content to reduce the risk of unsubscribes. To steal a line from a famous real estate agent, Pushly believes in "customization always in all ways." As a publisher, you benefit the most by making use of personalization tools designed to increase subscriber engagement. Check out our additional Smart Segmentation customization tool to segment content to interested audiences, including A/B testing to ensure notifications meet defined KPIs.
Connect with us to learn how publishers in the Comscore Top 50 work with Pushly to retain and win audiences.