When it comes to media consumption, consumers are all about on-demand all of the time. In fact, television and streaming hours per week have risen more than 20 percent year over year, and internet usage is at a record high, according to the New York Times.
Entertainment publishers can capitalize on this burgeoning desire for digital interaction, using push notifications to send breaking entertainment news and content that appeal to diverse audiences, bringing back one-time visitors and maintaining loyal audiences in unprecedented times.
Push is breaking all kind of entertainment news...and bringing audiences back
The world is changing daily, and entertainment publishers are in a unique position to break news. Unlike major news media sites, entertainment providers can switch between coverage of the coronavirus, celebrity updates, and the hottest TikTok videos. The diversity of content as it appeals to many different audiences gives entertainment sites multiple opportunities to maximize push engagement. Why? Because push subscribers have opted in to receive Notifications, raising their hand to say they want entertainment updates on desktop or mobile even when they are off the publisher's site.
The Pushly platform gives publishers the opportunity to further personalize push content to audiences based on behavioral data like what pages they visited, what they spent their time reading, Notifications they clicked on, and more. For example, personalize pushes based on consumers with political content preferences or, say, interest in Kylie Jenner's ever-changing appearance. By tracking these clicks, entertainment publishers can divide readers into individual buckets and focus on appealing to their unique interests.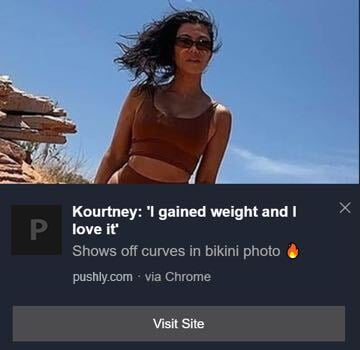 Segmentation options are nearly endless for entertainment pubs
"Entertainment" is a broad term. Publishers can use the Pushly platform to segment readers based on interest, entertainment content preferences, and even location to deploy bespoke content.
Tracking page visits allows publishers to target audiences by interest. For instance, if a consumer clicked into 15 articles about musicians and only two about celebrity fashion, publishers would know to deploy pushes about music to that user. Within the music-fan demographic, entertainment publishers can further divide readers by genre, sending pushes about Dolly Parton joining an "Old Town Road" remix to country fans and reviews of Lady Gaga's forthcoming album to pop lovers.

Call to action responses help entertainment publishers segment readers. Tracking where customers respond to surveys, newsletter subscriptions, and other CTAs can indicate consumer interests. If a reader subscribes to a daily newsletter through a CTA at the base of an article about "Love is Blind," they may be more likely to respond to notifications about reality TV in the future.
Push notifications can target fans with audience-specific content
The Pushly platform helps entertainment publishers track audiences to target repeat clicks. For example, Pushly's top entertainment provider sent episode recap push notifications to "Game of Thrones" fans every Monday morning while the show was in season, resulting in consistent visitor sessions. This type of narrowly-targeted content performs consistently well with high-profile programs or events, like the birth of the royal baby or the release of Marvel blockbusters. With Pushly's smart segmentation tools, these push notifications can be sent automatically to predetermined audiences for guaranteed engagement.
Direct engagement that trumps saturated marketing platforms
Push notifications drive twice the engagement generated by email campaigns and 8x more than social media posts. This success makes them an excellent way for entertainment publishers to engage with broad audiences, increase repeat visitors, and boost page views for improved ad revenue.
Connect with us here to learn more about how Pushly can help drive repeat engagement and grow the overall lifetime value of visitors for your entertainment property.