The Challenge
Over the last several years, a furniture company client built a quality, trusted brand that continues to generate sales through physical locations, social media and email engagement. However, like all direct-to-consumer brands, they were seeking new avenues through which they could directly engage their audience and drive online sales. To meet this challenge, they turned to Pushly's web push notification platform.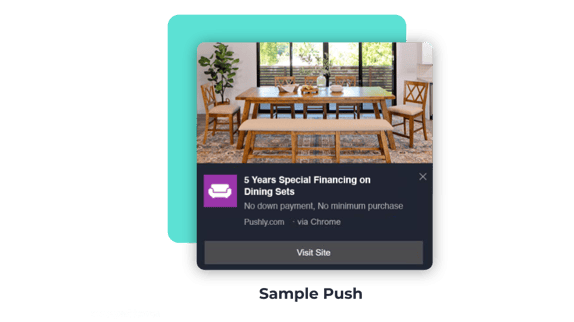 Using Web Push to Accelerate Sales & Subscriptions
Pushly's latest ecommerce features enabled them to access increased push notification functionality and support to meet their business growth goals.
Within the first 30 days of launching, they drove over 25,000 clicks back to their site. Moreover, they've seen measurable results in terms of revenue– in just over five weeks generating over $187,000 in incremental purchases with over 160 transactions driven by push notifications.