What are you doing to drive sales on your site? Nearly every e-commerce site runs abandoned cart email campaigns, but with SPAM filters and the sheer volume of emails received by consumers, these messages are easily missed. Browser-based push notifications cut through the clutter to get in front of consumers and drive immediate engagement. That's why Pushly is pleased to announce the launch of our e-commerce support and associated Abandoned Cart Campaigns.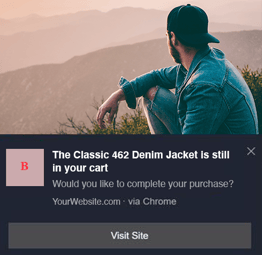 Publishers have long been able to pass Pushly any first-party user data to be leveraged in targeting Notifications. The release of e-commerce support means publishers can now combine this intelligent targeting with dynamic, automated abandoned cart Notifications. Connect your product feed(s) to Pushly and you'll be able to combine creative copy with your current product descriptions to create engaging direct-to-consumer touchpoints which drive sales.
Some controls include:
Dynamic product descriptions and links.
Configurable cart abandonment timeframes, so you decide when a user enters the re-engagement Campaign along with subsequent touchpoints.
Combining Campaigns with the data you're currently passing Pushly. For example, you may only want "known" users to be eligible for dynamic Campaigns.
The ability to exit a subscriber from a Campaign upon purchase.
"Quiet Hours" which allow you to identify timeframes during which you do not want users to get abandoned cart Notifications (middle of the night, for example).
These are just some examples of options included in this feature set. For current customers, reach out to your Account Manager or AccountHelp@Pushly.com for assistance in getting set up.
If you aren't working with Pushly, request a demo to see how we can help drive more revenue for your site!